Winter is coming and our pets are starting to feel the chilly mornings and evenings. It's time to set a cosy, warm home environment and take the jumpers and sweaters out of the wardrobe. So, what exactly can we do to keep our best friend comfy? Should we get the dog a coat? And what about indoor cats? Do they need any special attention? Here's how to keep your pet warm during winter time!
Dogs versus sweaters: do they help them?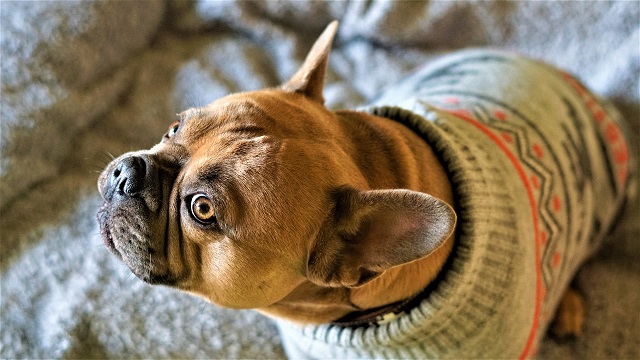 Your dog's ability to physically keep themselves warm depends on their breed, size and age. If they don't have a heavy hair coat, there is not enough curling up they can do to conserve heat. Smaller breeds, light bodied breeds (like greyhounds), and those with very short/thin hair usually benefit from a sweater.
If you have a puppy, a geriatric or an ill dog, you should really consider getting a warm jumper. Those all have a more difficult time generating and retaining enough body heat on their own. Besides, their immune system is weaker, making them more sensitive to the cold.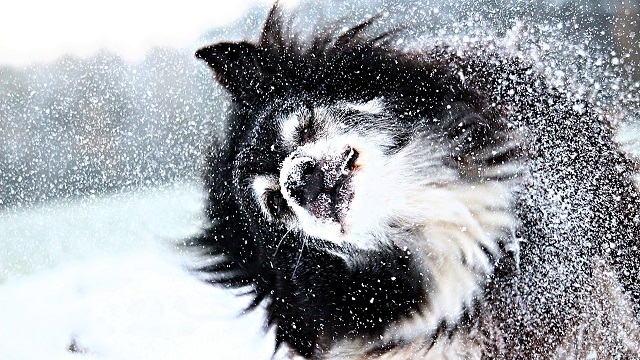 On the other hand, double-coated breeds like the Siberian Husky, Alaskan Malamute and Saint Bernard are suited to low temperatures. So if your fluffy friend belongs to one of those breeds, there's no need for additional insulation. They can even become uncomfortable or overheated with a sweater!
Remember to use your best judgment regarding whether or not to put a coat on your dog! If you are unsure, get in touch with our Findster Care team or ask for your veterinarian's opinion.
Just a word of warning: if you live in a place where it usually snows, give dog booties a try. They will help protect their paws from snow, ice, road salt and de-icers!
The most suitable jacket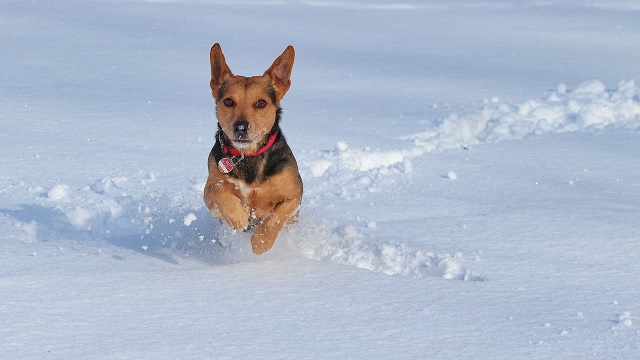 It's easy to get dizzy with the amount of options available! Look for a washable item that properly fits your pet's body. Usually wool is the best option, but it can be hard to clean or itchy. A good blend of washable wool and cotton or acrylic may be the best bet.
Measure your dog to assure the best fit: you want the piece to be snug without being too tight. Check around the armpits and neck to be sure there's freedom of movement. Avoid outfits that are difficult to put on/take off. Keep away from those with zippers, hooks, buttons or tags, too, as these items can easily be chewed or swallowed.
A good idea is to take your dog to the store along with you. There, you can try the clothes before buying them. Your buddy will enjoy the new activity and you won't have any problems with possible returns!

How to make the house comfy for your pet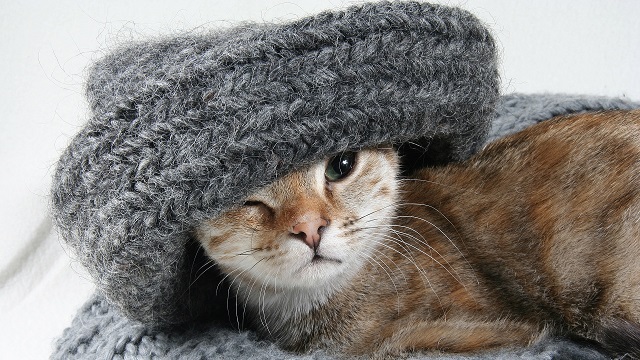 Having a safe and warm napping spot is definitely the key to overcome the freezing winter! Get a soft bed, add some blankets, and place it in a room with a pleasant temperature.
If you have a cat, consider getting a heated bed or blanket. There are plenty available in the market! To pick the most suitable bed shape, just pay attention to the position your furry friend usually sleeps in. It is important to always look for a specific pet heated bed or blanket, instead of using your own.
Keeping your dog and cat inside over the winter season is definitely ideal. However, if you have an outdoor pet, changing their sleeping habits may be tricky. Alternatively, a kennel or enclosed area for your pooch or kitty will be welcomed when the frosty mornings hit. Provide a warm bed under their own little roof to help escape the elements.
Letting your pet nap under the sunlight rays that stream through the window is also a good idea. It will certainly help make your pet's day, too! Even for us, it's such a delightful pleasure!
Now that you are empowered with such good tips, winter won't be so harsh for your bestie! We have one last trick up our sleeve we'll share with you: think about your own comfort level. If you're cold or uncomfortable, chances are your dog or cat are as well!
Comments