Does your cat need to exercise? Are they getting bored and lifeless with the same old routine? Well, time to get your hands dirty! Put those crafty skills to good use and try these 10 DIY cat toys we have for you. Your cat will certainly be thankful for all the fun, and you will feel like an active part in their entertainment! Plus, you can even recycle some old stuff lying around your house in the process. Win-win! ?
---
Wine cork and feathers
DIY cat toys that are also cute to have around the house? Yes, please! ?
Reuse old wine corks and turn them into cute feather strings for your cat to enjoy. Boil the corks to remove the wine stains. Let them dry completely and make a hole on top using a knife or scissors. Get some colored feathers and tie their bottom with a string. Put some drops of super glue in the cork hole and insert the feathers, making sure the string is secure on the bottom. Let it dry completely before giving it to your cat.
You can hang the corks to make things more difficult and interesting for your feline or simply throw them and watch what happens. The end result will be the same: hours of fun!
? Learn how to do it: Sweet Makes Three
---
Kibbles maze
Make treat time funner by creating a kibbles maze for your cat! Not only will this keep them entertained, it will make them use their little grey cells! ?
All you need is an empty tissue box, some toilet paper rolls, a string, glue and scissors. Start by puncturing two holes on the bottom of the tissue box and get the string attached to them. You will be using the string to secure the box on a piece of furniture so it doesn't move. Before securing it though, glue the toilet paper rolls standing inside. Make little holes using the scissors on the rolls and you're ready!
Set a kibble inside and watch as your cat tries to retrieve it while struggling whenever it falls through the holes into another toilet paper roll!
? Learn how to do it: Four White Paws
---
Cardboard Scratching Pad
Cardboard boxes can be used for more than hiding spots. They can be turned into cute scratching pads for your cat to sharpen their nails or simply take a nap! ?
Get some boxes and cut them in 4-inch strips. Take one of the stripes and roll it tightly, using tape at the end to attach another cardboard stripe. Keep doing this until you have a nice round scratching pad for your cat to play with! To secure it better, use a glue gun to glue the cardboard as you roll it.
? Learn how to do it: Jessica's Projects
---
T-shirt ribbons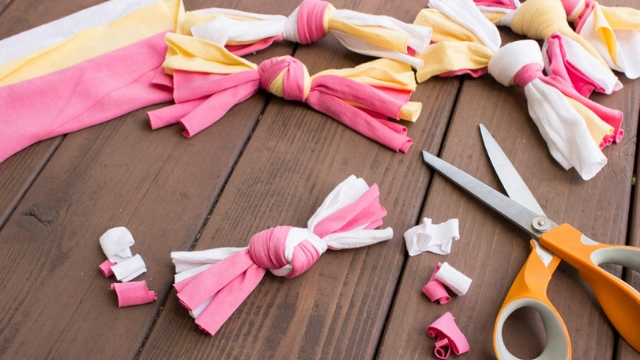 One of the advantages of making your own DIY cat toys is that you can give a new use and life to old things lying around your house. Like old T-shirts! ?
Cut them into small strips and tie them together to create fabric ribbons for your cat to play with. If possible, use several colored T-shirts and tie the different fabrics together so the end result is even prettier and more appealing to Mr. Whiskers.
? Learn how to do it: Muslin And Merlot
---
Rattling kibbles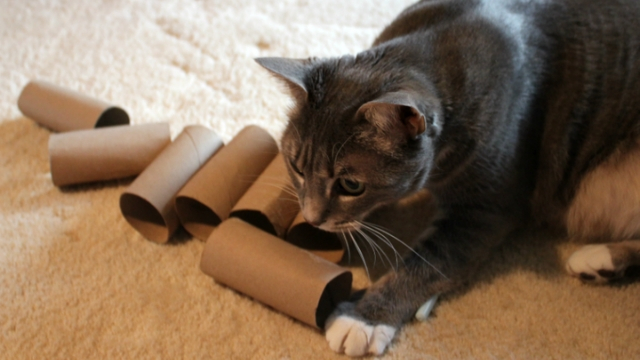 As far as DIY cat toys go, this one couldn't be easier! All you need is your cat's favorite kibbles and a toilet paper roll. ?
Fold one end of the roll and place several treats inside, enough to make a rattling sound when shaken. Close the other end of the roll to keep the kibbles from spilling out, and you're done! The rattling sound and the tasty smell of the treats will immediately get your pals' attention.
To make it harder for them to get the kibbles, you can wrap the closed toilet roll with a foam sheet or construction paper.
? Learn how to do it: Glue Sticks And Gumdrops
---
Tiny catnip pillows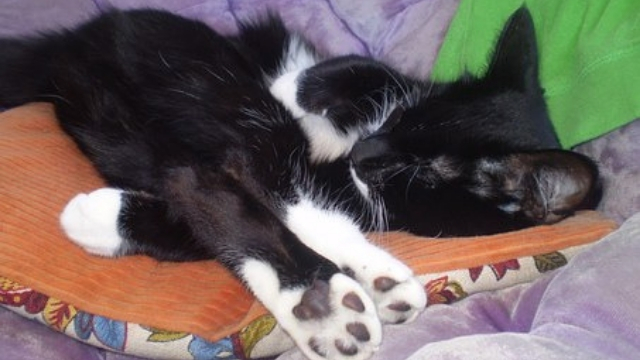 Cats go bananas with catnip, so you can be sure this one will be a winner. ?
Get some felt sheet and cut cute little shapes into them (tip: use a cookie mold to get the shapes easier). Using a strong needle and thread, stitch them tightly together. When you are halfway through it, put a tiny cotton ball with dry catnip inside and close them.
You can give these tiny pillows to your cat or hang them on a stick to make a funny wand. They will love them either way!
? Learn how to do it: Joy The Baker
---
Jingle feathers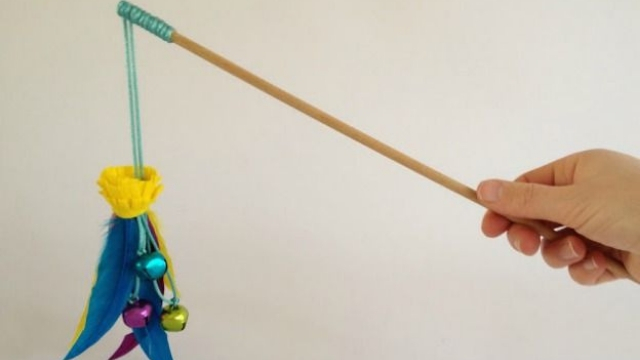 For this one, you can either use regular feathers or make your own using wool felt. Check which ones appeal to your cat's taste the most! Tie the feathers with a satin cord, place a jingle in it and hang it in a place where your cat can easily pounce and jump to get it.
These jingle feathers will sound like a dreamcatcher to you, and your pal will be able to enjoy putting their hunting instincts to good use! ?
? Learn how to do it: Martha Stewart
---
Yarn Pom Poms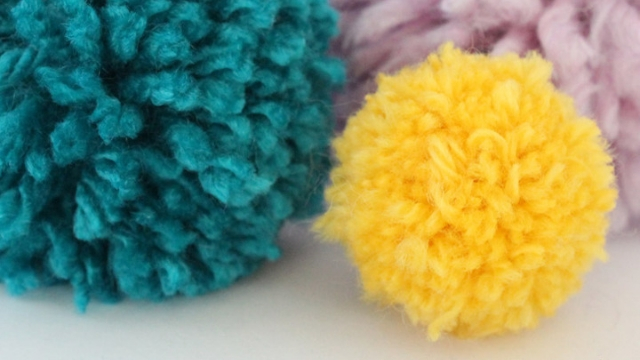 They are no cheerleaders, but cats sure love their pom poms! ?
As a cardboard house decoration, a simple toy or an addition to a fun wand, pom poms capture their attention with their bright colors and textured fabric that tingles in their tongues.
Get a colorful yarn and wrap it around a fork several times. Tie all the threads together down the middle. Remove the fork and cut the edges of your newly made ribbon to create the pom pom effect! If needed, trim the tips to make them even.
? Learn how to do it: Recipe Book And More
---
Cardboard house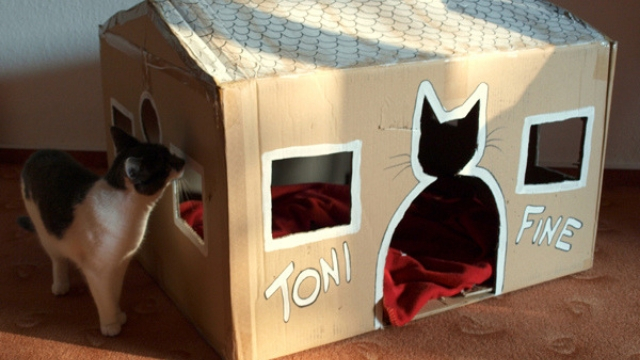 Cats love cardboard boxes. ? Let's be honest, you can simply leave one lying around and you'll get one of the most basic DIY cat toys you can have… And possibly one of the most effective, too!
But, for those who want to pump it up a bit, get your crafting talent ready and turn the boring box into a house! Tape the box shut, creating a roof-like shape on top. Cut the windows, the doors and more random shapes to allow your cat to enter and watch their surroundings from the inside.
Now, you just need to let your imagination flow! Paint the house, add some pom poms, wool felt shapes, write your cat's name at the entrance with glitter, everything is game when it comes to decorating your pals' new hiding spot!
? Learn how to do it: Moments To Live For
---
Pipe Cleaner caterpillars

For some reason, cats love pipe cleaners and their rough and shiny texture. And because they are moldable, you can get your imagination flowing and create different shapes to attract your feline even more! ?
Despite all the fun they can provide, these DIY cat toys should only be used under supervision. Don't let your cat chew on them, as the little hairs can be dangerous if ingested.
---
Are you excited with all the fun you can now have with your cat? DIY cat toys are great because they entertain our little fellows and give owners a sense of pride for being the source of all the fun, with their creativity. If you didn't find a suitable toy in this list, make sure to check these other 7 Funny Cat Games we also have for you. Now… let the games begin! ?
Comments