In the technology era we live in, not even the greatest "escape artist" can run away from smartphone apps. From medical care to pet communities, without forgetting pet trackers for location and activity, these are a real must-have for proud dog parents! Do you have enough room in your smart device for these megabytes of software? Take a look at the best apps for dogs you won't want to miss! ?
---
7. P5 Dog Training App
Purina, the number one company in the pet food industry, complement their service with a smartphone app that guides you through some dog training classes and provides key insights about your dog's activity. The app also has a gaming side – you level up by keeping your dog healthy! ?
? Download:
---
6. Pet First Aid – Red Cross
The American Red Cross provides 6 free apps dedicated to first-aid care. And one of those is fully dedicated to pets! If Fido is in need of medical care, you can use the app to call a vet, check where the nearest vet center is or even to help you diagnose their illness/injury by yourself. All of this on the palm of your hand! ?‍⚕️
? Download:
---
5. PetCoach – Ask a vet for free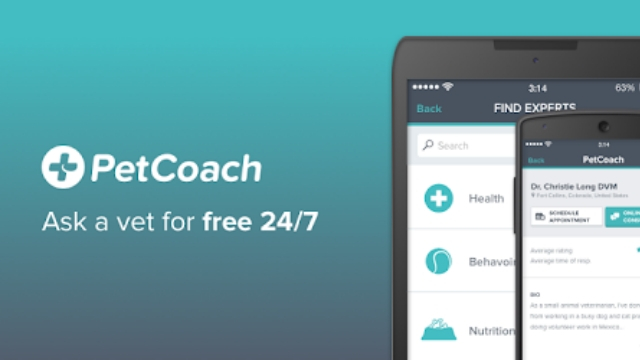 Similarly to Purina, Petco also added value to their brand of pet supplies by creating this wonderful smartphone app! Using PetCoach, you can search the forum for the correct medicine to your pet's disease, for example. Oh, wait – do you need an opinion from a real expert? You can also get it… and for free! ?
? Download:
---
4. Rover – Dog Boarding & Walking
You've probably heard of Airbnb, the web platform where you can rent a place (rather than staying at an expensive hotel). Well, Rover works just like that, but for dogs! They are the key player on this market, having recently acquired DogVacay, which was previously their greatest competitor! A very interesting company, with one of the best apps for dogs! ?
? Download:
---
3. FitBark
With a FitBark sensor, you'll be able to track your dog's activity! The app provides very interesting insights on your best friend's well-being and healthiness. Completing challenges helps your pet get even healthier, and you'll rise as one of the most responsible pet parents  in FitBark's community! ?
? Download:
---
2. Petcube
"Smile, you're being recorded"! ⚠ That's exactly what Petcube does: you can leave the Petcube camera at home (or anywhere your pet stays) and it will stream what they're doing directly to your smartphone's screen! In addition, you have access to a whole community of pet lovers – you can watch what their pets are doing and, of course, leave a comment! ? ?
? Download:
---
1. Findster App
Get your own Findster Duo+ and you'll be able to check your pet's location and activity directly on your smartphone! Besides, the Findster App also challenges you to accomplish daily goals (established considering your pet's profile) and objectives, rewarding you with badges and level-ups. If your dog is super fast, they can even climb to the top of the leaderboards! Along with being a GPS pet tracker and pet activity tracker, Findster Duo+ allows you to create virtual fences, revisit your walks and past locations, and even share your pet with friends – all of this using the Findster app! ?
? Download:
---
What are your thoughts on our list of best apps for dogs? What features would you like to see added to these apps? Share your ideas with us! ?
Comments